There is a lot of talk in the company – one meeting after another, and yet coordination is getting out of hand. Commitments are not kept. A lot is started, but little is finished. Work is stuck somewhere and it takes forever and three days until something is finally finished. Measurements are available, but they are not of much use. And the more capacities you build up, the more complex, unpredictable, and slower everything becomes.
In the Flight Levels Flow Design Workshop (FLFD), you will learn what you need to establish business agility in your company – across teams, products, and services.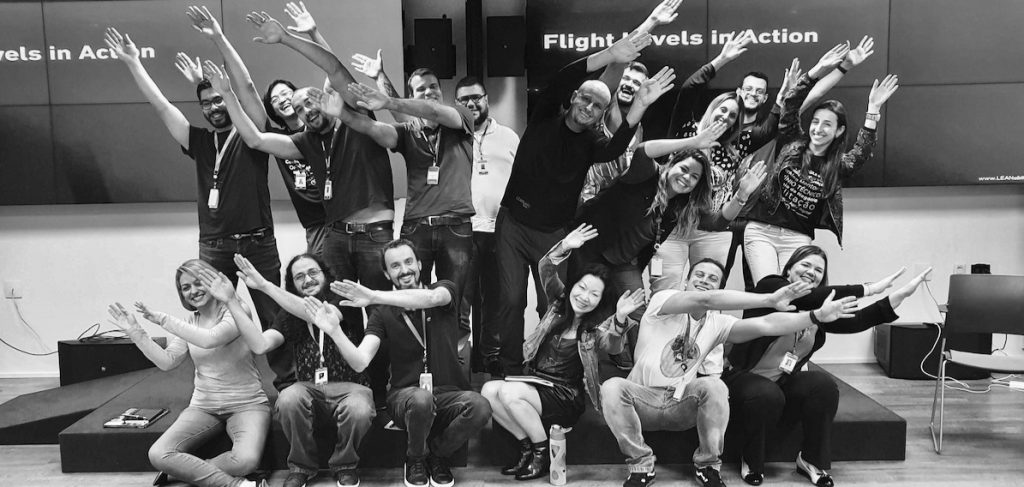 Flight Levels Board Design (FLBD) got renamed to Flight Levels Flow Design (FLFD) effective October 2020 because Flow Design reflects much better the content you will learn in this class.
The problem is: If value streams are not visualized and managed across teams and products, bottlenecks, blockers, and waiting times remain undetected. As soon as you make dependencies visible, you can manage them and thus create better planning and increase performance.
How this workshop can help you
We will show you

how to identify the strongest levers for change at each flight level and make them visible on boards.

We give you the tools

you need to create the necessary interactions between people and teams.

We establish measurements with you as feedback loops

with which you can track and evaluate the achievement of your goals.

As creators of the Flight Levels Model,

we will show you which considerations are behind it and how we help companies in all industries to improve significantly.
The content at a glance
Principles of flow and Flight Levels:

Why is flow-based work so important? How can I make the workflows in my organization explicit?

Flight Level 2 vs. Flight Level 3:

How do strategy boards look like? How can Flight Level 2 boards help me to implement the strategy?

Visualization:

What is important when building cross-team and cross-product boards? How can I make waiting times, dependencies, and bottlenecks visible?

Create focus:

How can I complete more work instead of starting more work all the time? How do several teams manage to focus on the essential topics?

Agile interactions:

What meetings are required to make cross-team and cross-product coordination work?

Measure progress:

Which measurements are useful and effective? How can I measure whether we are improving?
In the FLFD Workshop, you will learn how to build cross-team and cross-product boards.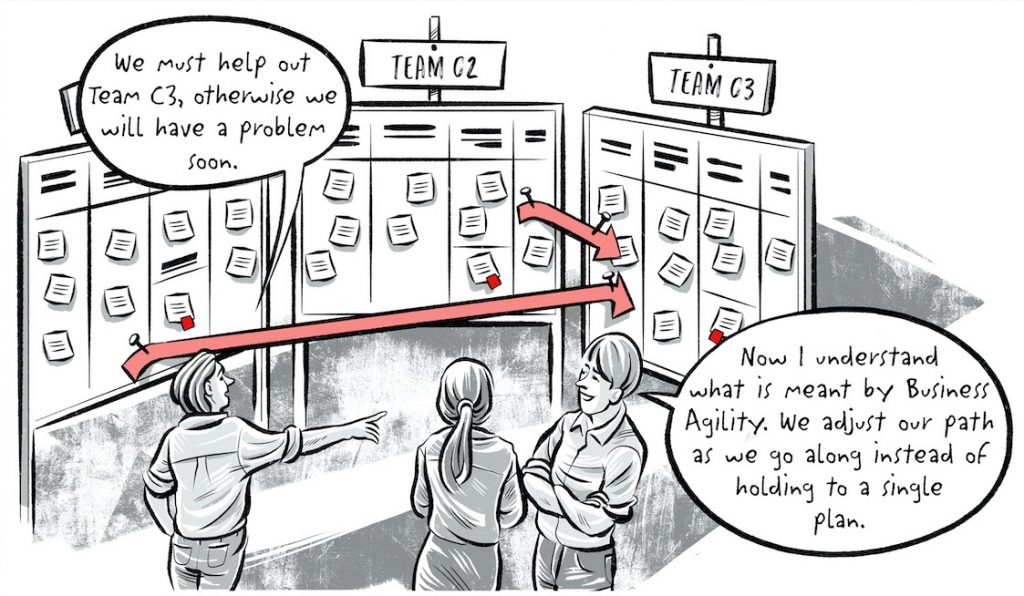 The Workshop
The Flight Levels thinking model reveals its power through visualization. At each Flight Level, different tasks have to be fulfilled, therefore different aspects have to be considered when designing the boards. Above all, there are no copy templates for these boards, as no two companies are the same. And: These boards are constantly evolving.

In this workshop, you collect ideas for cross-team, cross-product, and cross-service boards, design them or develop existing boards further. It is important to us that you understand the way of thinking and that you can judge for yourself where and how the Flight Levels fit into your context.

There may be several agile working methods in use in your organization and there are already some boards, but coordination is not working well yet – in FLFD you can experiment with improvements and get professional advice. This will enable you to learn how to integrate these systems and improve their interaction. You will be likely to go home with an extensive improvement backlog for positive changes in your system.

By the way: It's best to bring your colleagues with you if there are already concrete Flight Levels plans in your organization! This creates a small change team that can already work with its own context during training and goes home with a good foundation.

This workshop is certified by the Flight Levels Academy. After completing the workshop, participants will receive a "Certificate of Completion" directly from Flight Levels Academy.
The knowledge acquired in the Flight Levels Flow Design Workshop (FLFD) is an essential requirement if you want to become a certified Flight Levels Coach (FLC).